Copyright 2001 Los Angeles Times
Sunday, October 8, 2000

Help Wanted: Elite Musicians
The L.A. Philharmonic has filled a dozen openings by putting hopefuls through a rigorous audition process.

By JOHN HENKEN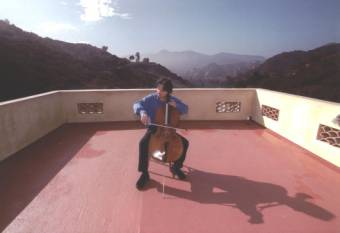 Shulman, L.A. Philharmonic Principal Cellist, at his
home in the Santa Monica Mountains.


In an election year, some pundit inevitably labels the U.S. Senate the "world's most exclusive club." But major U.S. cities have clubs of similar size that are even tougher to get into--their symphony orchestras.
Certainly the talent-and-training bar appears to be much higher in an orchestra. But while the qualifications may seem more objective, ultimately the symphonic hopeful is chosen by the same elusive standard as the political candidate--be the one we want.
An unusually large number of Los Angeles Philharmonic members have been recently elected, due mostly to retirements. The ensemble that just launched the new season has a lot of new faces. The orchestra has filled 12 positions--more than 10% of the work force--since the end of the 1998-99 season, bringing close to 1,000 auditioning hopefuls to Los Angeles.
Newest of the Philharmonic newbies is principal cellist Andrew Shulman. His first concert with the orchestra was just a week ago, a preseason community event in Pasadena, with music director Esa-Pekka Salonen on the podium. A mainstay of the London music scene for the past two decades and a British citizen, he has been solo cellist for the Academy of St. Martin in the Fields and the Philharmonia, and was cellist of the much-recorded Britten String Quartet for 10 years.
In 1990, Shulman won the Piatigorsky Artist Award, a prestigious invitational competition at the New England Conservatory of Music, which carries attendant teaching and recital engagements. He has also been developing a parallel career as a conductor, and anticipates returning regularly to Europe to work with orchestras in Ireland, England and Scandinavia.
For all of that, the move to Los Angeles is hardly a provincial retreat. The Los Angeles Philharmonic's reputation in Europe, Shulman says, "is very high, very fine." He is talking by phone amid moving-in debris at his new house in Topanga Canyon.
"The Philharmonic has a stability a lot of other American orchestras don't have," he says, explaining why a Brit might uproot his family and move to America's West Coast. "Esa-Pekka has a real vision of what the orchestra should be. He has a good relationship with the orchestra, so you don't have the politics and shenanigans you get in other orchestras."
Shulman comes by his talent naturally enough; his father was a double bass player and his mother was an opera singer. He began piano lessons in a desultory fashion when he was 6, before starting the cello at age 10.
"I chose cello partly because my father could help me with it, but there was also something about the sound of the cello. Its range is that of a human voice and it seemed more natural to me than violin. Once I got hooked on cello, that was it."
He was also hooked on orchestras. At 19, straight out of the Royal College of Music, he joined the Halle Orchestra. About a year later he became solo cello with the Royal Liverpool Philharmonic and the Academy of St. Martin in the Fields. Then, at 22, he became solo cello of the Philharmonia Orchestra. He devoted seven years full time to the Britten Quartet, but reenlisted in orchestra playing in 1994 when "the Philharmonia made me an offer I couldn't refuse to come back."
Although he has played concertos and recitals throughout his career, he has no reservations about his preference for orchestral playing over solo work.
"It's the repertoire, definitely," Shulman, now 40, says. "At an early age, I devoured scores. I've always been interested in orchestration and structure, which is why I am now doing more conducting. There is nothing I enjoy more than getting into the style of a composer and the shape of a piece of music."
Shulman met Salonen through his work with the Philharmonia, where the conductor has been a regular guest. It was Salonen who invited him to apply for the principal cello chair here.
"I think the Philharmonic got to the stage in the auditions where they had not found anyone whom everyone could agree on. I've known Esa-Pekka a long time, and he suggested I come. I came and played with the orchestra for a week and I enjoyed the atmosphere very much.
"Interestingly, Esa-Pekka is very different with the two orchestras, a very different personality. Which says a lot about him, that he can adapt to and is sensitive to the instrument he is conducting.
"It was a long process then, bringing my family over to check out schools and houses. We're very pleased to be here now."
As a result of those visits, Shulman, his wife and two children settled in Topanga, allowing them to indulge a passion for dogs and walking. He is also "just getting into surfing."
"We were looking for something not too cityish," Shulman says. "It is a bit of a commute, but I did something similar in England, driving in from the country."
"I have known Andrew since 1983," Salonen says. "Before I picked up the phone and called him, I thought, 'Maybe he has done London now, maybe he is ready for a change.' It seems I was right.
"He is very versatile, very warm and passionate in his approach to his instrument and to music-making. We are pleased to see how easily he has fit in. Very clearly, the personality dynamic here is good."

* * * The process of filling jobs at the Philharmonic always begins with an advertisement in the International Musician, the monthly paper of the musicians' union. The applications pour in--usually hundreds for each position--and the Philharmonic's Auditions and Renewals Committee culls the pile to 40 to 150 candidates for each opening who are invited to audition here.
"We used to do taped applications as well, but no longer, just because with technology now it is so easy to mess with recordings," says Gail Samuels, the Philharmonic's orchestra manager. "The preliminary [rounds are] played from behind a screen, without the music director present. The players are usually asked for a bit of a concerto and a lot of excerpts [from specific works in the symphonic repertory]."
The committee, expanded with members of the pertinent section, then votes on advancing the player to a semifinal round, which is also played anonymously--the better to ensure equal opportunity.
In the final round, however, all is revealed.
"The screen comes down and the music director comes in," says Samuels. "People play much longer here, maybe 15 to 20 minutes. There is discussion, of course, and then the committee votes to qualify one or more of the finalists, and then the music director chooses. He can also invite them to play with the orchestra for a week. Everyone's goal is to get the best player."
If the fit isn't right, as happened in the search for a principal cellist, more proactive recruiting takes place. "We basically felt that the kind of people we were interested in would have to be invited," Salonen says. "Obviously, in real-life situations, you can't ask experienced and busy artists such as this to come and play behind a curtain. They come and play with the orchestra for a week, maybe give a recital."
The experience of Tamara Thweatt, a piccolo player who started her Philharmonic career in July with the beginning of the Hollywood Bowl season, is more typical. A recent graduate of the doctoral music program at the University of Michigan and a freelancer in the Flint and Ann Arbor symphonies, she spotted the ad in the union paper, sent in her resume, and was one of 100 chosen to begin the auditions.
"The Philharmonic has a wonderful policy of inviting many people to come," she says. "I flew to Los Angeles at my own expense to take the audition--fortunately, I have a sister who lives in Pasadena. The auditions were played in four rounds over two days, taking us from 100 to 20 to seven to four players. Everyone was very professional and kind--I always had a room to warm up in.
"By the end I was really tired and hungry, but it was so amazing. I have been auditioning for about eight years, seeking a job in a full-time orchestra, basically applying anywhere there was a position open. How honored I am, being in such a wonderful place, with such an orchestra!"
Thweatt may not come to the Philharmonic with the same level of orchestral experience that Shulman does, but she shares his reasons for choosing the symphonic life.
"The repertoire is just so beautiful. The piccolo doesn't play all the time, and I enjoy just listening. It is so lovely, being right there in the middle of a group with so many colors, so much wonderful playing."
* * * In addition to Shulman and Thweatt, other newcomers to the Philharmonic over the past season include violinists Chao-Hua Jin, Akiko Tarumoto and Jonathan Wei; violist Hui Liu; cellists David Garrett and Brent Samuel; bassist David Allen Moore; oboist Anne Marie Gabriele; French horn player Bruce Hudson; and associate principal trombone James Miller. Still open is the principal trumpet chair and, with the recent retirement of pianist Zita Carno, the keyboard position.
"It is unique in the Philharmonic history--and for almost any orchestra--to add this many new players," Salonen says. "The standard is very high in this country. There are some really fantastic people out there, so in that sense it was very difficult.
"It is an interesting balance. When a young player comes to an orchestra, the process usually is that they adjust their style to fit in. But when hiring, I also try to imagine what they can add, how they can continue in our tradition but also contribute new energy. The change in an orchestra is gradual over time, an organic development, but change is necessary. An orchestra has to be constantly self-critical and evolving."
With a Hollywood Bowl season behind her, Thweatt already knows something about fitting into her Philharmonic role.
"At the beginning in July, the pace of things was very challenging, having only one rehearsal per concert," she says. "But I was sent all the music ahead of time, and the librarians and other musicians were all extremely helpful. I got tired midway through, but I also learned so much in so short a time. It has given me a lot of confidence for the fall season.'
Shulman, with the depth of his experience, will be expected to take a leadership role right from the start. In addition to playing the solo parts that come along and more mundane tasks such as enforcing common bowing patterns, section principals such as Shulman must take much of the responsibility for creating and maintaining the signature sound of the Los Angeles Philharmonic, which he defines as having "definite warmth, like European orchestras, but also more precision and depth."
"For some of the key positions, we have to consider not only instrumental skills, but also personality and leadership," Salonen says. "Auditions are more complicated than just listening. In particular, to find somebody to succeed [retired principal cellist] Ron Leonard, who is such a great musician and so respected by all the orchestra, it is a weighty decision. Out of all the people we invited, we thought Andrew made the best solo cellist."
"I consider my job more to create an atmosphere and a sound that people can play into and contribute 100%," Shulman says. "You have to have a vision of what you want the section to sound like."

John Henken Is a Regular Contributor to Calendar


Copyright 2001 Los Angeles Times